Mrs. Anamika Dutta
Principal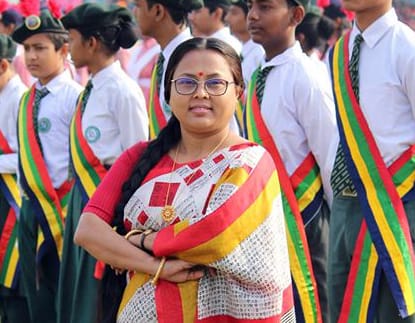 Running or managing a CBSE affiliated school is in itself a very challenging job. CBSE is not just another board for conducting exams or providing affiliations to its member schools. It is beyond being just an academic board. CBSE happens to be the largest board in India spreading not only through our territory of India but also beyond India in different countries all over the world. So for CBSE defining academic curriculum, enrolling students, conducting exams, etc. are the normal jobs as assigned to other boards, but beyond that CBSE has to reconcile the wide spread diversity of language, culture and uphold the integrity of the country.
In keeping pace with those diverse requirements for any school which is actually limited in its local society in itself is a big challenge where training the children and accustom them with the diverse culture of India is indeed a very hard job. We at SSIS over the last few years are not only providing the best education for our children but also are continuously striving to provide the best curriculum of the CBSE. As anyone can appreciate that any school has to reconcile the aspirations of the guardians, likes and dislikes of the children and the expectation of the people of the greater civil society from these schools. Therefore on one hand we emphasis on developing the skills and harness the highest potential of the children , keeping in mind the aspirations of the guardians so that the children can establish themselves as able and successful citizens of the country. On the other hand total literacy, no drop out and also the involvement of the society with the school are the parameters which the school fulfils by interacting with the local hamlets and the other wise less privileged people living in the surrounding areas.
In the process the children come to learn about the general life of the down trodden people and the expectations of the society from them with regard to dealing with such problems or such people in the days to come in their grown up life.
For me it's a continuous and 24×7 job where remaining engrossed in dispensing all these responsibilities, I find it a heavenly abode where every challenge comes as a blessings to me to encounter them in the best possible capacity. Fortunately I have along with me a very competent staff who are not only erudite persons but also humane and versatile in their performance.
In the coming days we look forward in performing better and dispose the best so that we can come up with flying colours and set an example before the society.