Composite Science Lab
A well-equipped composite science lab, enabling the students to conduct all the necessary experiments. The experiment tables having exclusive water supply, burners and seamless gas line connectivity makes the laboratory the best of its kind. A wide range of preserved specimens allow the young learners to explore the world of flora and fauna and keeps the students at par with the CBSE curriculum.
Computer Lab & High Speed Internet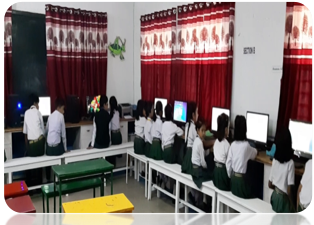 In this modern era it is very important and necessary to have knowledge in information technology and we have a dedicated computer lab for children can enhance their knowledge in IT sector and also with that we have a high speed broadband connection so that our children can keep in touch with the happenings around the world and can access the internet for clearing the concepts about different subjects.
Library With Reading Room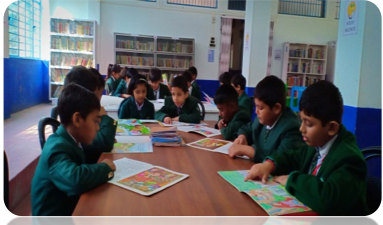 Our school has an excellent and well setup library with reading room. It consists of a large hall with shelves, bookstands and furniture. The room is airy and spacious. It has 2182 books with the ratio being 5 books each student. It also has a large reading arena and teachers' reference section. It widens students' mind, improves their knowledge and clears their doubts and inculcates the habit of reading.
Mathematics Laboratory
Though science lab is a common set up in most schools but a Mathematics Lab is one concept where the students can unfold the joy of learning numbers in a world of joy in this school. The age old fear of numbers will vanish entering in this lab. The 3D cubes and blocks immensely help the young learners mastering the concepts of geometry and mensuration easily.
Quality Drinking Water And Cooler
We are not only concerned about the academics of our children but also about their health. At our school we have installed water dispensing machine with cooler so that during the summer time students can quench their thirst with cold purified water. It also helps to reduce the burden of their bags as they don't need to bring filled water bottles from home. They can easily fill it up in the school.
Un-interrupted Power Supply
We provide an uninterrupted and smooth flow of power supply through generator. When the electricity is not available nothing can about their knowledge absorbing course.
Audio Visual Learning Through Digital Board
In our school we are following a highly advanced process of teaching so that learning becomes a thing of interest. Almost every classroom is equipped with smart digital boards providing audio visual aids to the students. This not only increases the interest in studies but also make things easier for them to understand minutely.
Medical Room with First-Aid and Sick Bed
A dedicated medical room for the students is there where first aid is given and sick bed for the students who require immediate medical attention.
Spoken English
A highly trained faculty setup is engaged in improving the students' proficiency of the English language. Dedicated smart class and English labs are conducted to let students learn in a real life, practical environment.
Fire Extinguisher & CCTV Surveillance
As safety and security of the students are the utmost priority of a school we, have sufficient amount of Fire Extinguishers in each floor, staircase, and laboratories so that we can remain prepared for any uncertain accidental fire breakout. The entire school compound is under CCTV surveillance.
 Playground For Football Kho-Kho, Volleyball, Badminton, Kabaddi & Concrete Cricket Pitch For Net Practice
Sports help in building character and it helps to build leadership along with academic growth. It is very much necessary to develop an interest in sports as well. We have our own playground adjoining to the main compound where our students practice various sports like Kho-Kho, Football, Volleyball, Kabaddi, Badminton, etc.
Open Cultural Stage (Amphitheatre)– Dance And Aerobic Platform– Art And Craft Atelier
We believe without co-scholastic nourishment education remains incomplete. Hence we give equal emphasis to various co-scholastic activities. On the wide centre stage, various activities are performed and students learn their cultural ethos on this platform.